Workshop footage from summer 2018
As part of the Snape Music Festival of New in September 2018, I presented this ten minute video of work in progress on Giant.
This new chamber opera tells the story of the betrayal of Charles Byrne – an exceptionally tall man who exhibited himself in London in the eighteenth century as a piece of living art. As his body would be considered a trophy by collectors of the time, thoughts of graverobbers stealing his corpse filled Byrne with existential terror. He took steps to ensure he would be buried at sea but these were undone, hideously, by those around him – people he thought were his friends.
The video, featuring a workshop session in Snape Maltings, shows some fragments of the music written so far, as well as some of the libretto and storyboard that's yet to be set to music (librettist Ross Sutherland).
"I have a tall man, I can't wait for you to see him",
John Hunter, anatomist and surgeon
Musical background
Giant is my first opera. A draft libretto has been written by Ross and the piece is directed by Sarah Fahie who has been working with us both, from an early stage, to help us shape this into a compelling piece of theatre. This chamber piece is for four singers (soprano, alto, tenor, baritone) and five musicians, one of whom is also manipulating electronics live. Viola da gamba, clavisimbalum and percussed handbells are in the mix and all the instrumentalists are on stage throughout the opera. This is a piece about the bones of something so I want people to see the instruments, the bones of the music itself. I'm also deploying some of my robotic musical instruments on stage (e.g. the automatic polyphonic carillon). I'm using these to place Byrne, the living wonder, in a hall of mechanical curiosities, rather like Cox' Museum in eighteenth-century Piccadilly.
In line with my other compositions, I'm tightly coupling notated music with bespoke live electronic processing – techniques I've devised to augment the expressive possibilities of the music. I'm excited to be putting this bespoke electronics on stage, techniques I've refined over many years of live performance as an electroacoustic performer. Here, they enable us to bring a new sonic palette to opera. I use electronics to get inside sound and pull it around like liquorice to create moments of stasis, sickness and dissassociation (Byrne had frequent migraines), or a sense of an action that needs to be undone. I see electronics and robotics as part of my compositional process, as much as any notated work. I'm always seeking ways to use these sonic capabilites narratively – they help me to express what can't necessarily be articulated in words.
I also use everyday items from the world of Byrne and his associates as sounding objects in the score. For instance, in the video, you can see teacups, pestles and other items being stirred ritualistically, presaging the horror awaiting Byrne's corpse in the anatomist's boiling pot.
Development process
Unusually for opera, I brought in director Sarah Fahie from the earliest stages of this piece's development to work closely with the Ross Sutherland (librettist) and me. I had a keen idea of the complexities involved in telling this story in opera and felt I needed the input of a director with Sarah's expertise to acheive the necessary somatic understanding of the piece. At the earliest stage embodied the narrative (i.e. acted it out, as a makeshift play) to work out how to pace scenes, moment by moment – this helped me to tell when I needed to push the music forwards, when to have moments of stasis, when to be fierce, introspective, serene or chaotic. It's also helped me to fathom how to characterise the main protagonists in this story, each of whom has their own subtleties and complexities which needs to be reflected in the music. Through this process, we're making opera where sound, narrative and action are tightly interwoven.
In a formative workshop, we took the unusual step of acting out an entire storyboard before we had any music or libretto. The narrative we used emerged from Ross' outline structure and from our collective improvisations (we worked with the singers and actors you see in this video, all of whom were very open to this devising process). In it, we made time and space for certain 'flashbulb' moments I wanted to score. Some of these were narratively lead (e.g. the opening scene with Hunter dissecting his own dead child), although many were equally driven by my own musical imperatives (e.g. the desire to have a moment where mourners promenade with the coffin – a scene reminiscent of the feeling of the funeral procession in Blow's Venus and Adonis). From this, we acted out the entire show, rather like a Passion play, lead by our instincts to find the essential elements and turning points of the story. This collaborative telling was invaluable as Ross wrote the libretto and I embarked on the music.
Sarah Fahie and I are continuing with this process as I tackle each scene. Our working method is yielding promising results. It's one we'd like to investigate further in this and other pieces.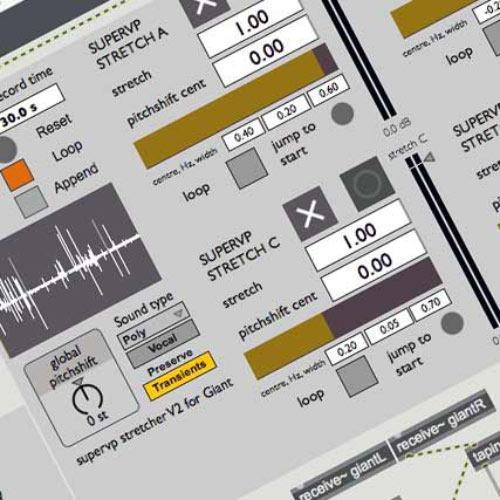 Support so far and next steps
This early work on Giant has been generously funded by a Jerwood Opera Writing Fellowship and by Snape Music – both of whom have also given me invaluable practical and professional support since 2016. Snape Music hosted most of the workshop you see in this video. Now this fellowship is over and the score is partially complete, I'm continuing to compose and am seeking funding to continue the development process described above. This is an expensive undertaking as it requires us to be with singers and instrumentalists in a rehearsal space, working on a formative score. However, by the end it, we should have a score and a vivid impression of how to embody it, moment by moment, on stage. We are now actively seeking partners interested in taking this piece to full production.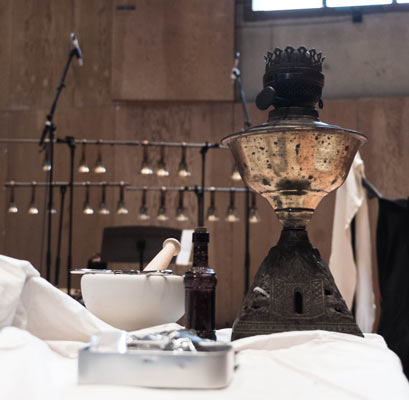 Creative team on workshop video
Sarah Angliss, composer and electronics
Ross Sutherland, writer
Sarah Fahie, director
Sarah Gabriel, soprano
Melanie Pappenheim, alto
Julian Podger, tenor
Jonathan Gunthorpe, baritone
Danielle Meehan, actor
Steven Bentley-Klein, violin and viola
Laura Cannell, violin
Emilia Benjamin, viola da gamba
Stephen Hiscock, percussion
Zoe Milton and Rosie Stroud, sound associates
Ana de Matos, film maker