Original music and research
Over the last few years, the close relationship between birdsong and human music has been a recurrent theme in my work. As a recorder player who also creates electronic music, this connection is one I find fascinating. I've composed music in imitation of birds for recorders, bells and theremin. Birdsong was also the inspiration behind 'The Bird Fancyer's Delight' (for BBC Radio 4, produced by Neil MacCarthy).
Birdsong is so closely bound up with the prehistory of sound recording, it could possibly explain the origin of the word 'record' (the word that's written on every tape recorder or DAW interface). The word 'record' comes from Latin (re: again; cordi: from the heart). Just as human infants learn their language from those around them; young songbirds learn their song from other birds. When a songbird has memorised and can sing back its song, it's said to 'record'. The woodwind instrument, the recorder, is often used to imitate birds – and possibly hunters used something like a recorder to lure them. As I explain in the documentary below, for many centuries, trained songbirds were used to 'record' and sing music on command in fashionable homes. This practice only went out of fashion when the phonograph arrived – the first machine which could record and playback sounds.
Radio 4 documentary: The Bird Fancyer's Delight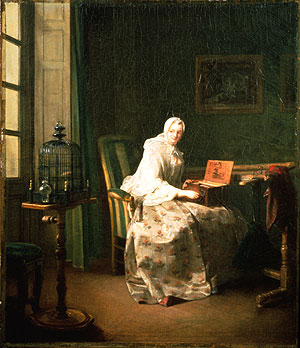 Centuries before the advent of the phonograph, captured songbirds were trained to sing fashionable melodies then used in the home as primordial, feathered music machines. In this half-hour documentary history I explore the surprising history of teaching songbirds to sing. Produced by Neil McCarthy for BBC Radio 4. Available on iPlayer.
This radio piece is packed with some of my favourite bird training ephemera, including 1700s dance tunes and some wonderful 1950s bird training records. Human contributors include ornithologist Geoff Sample, poet Katrina Porteous, behavioural ecologist Tim Birkhead, composer Aleks Kolkowski and Yorkshire's 'Champion of Champion' roller canary fancyer Ken Westmorland.
Background notes
Read more about the Bird Fancyer's Delight and the ancient practice of teaching caged songbirds to sing.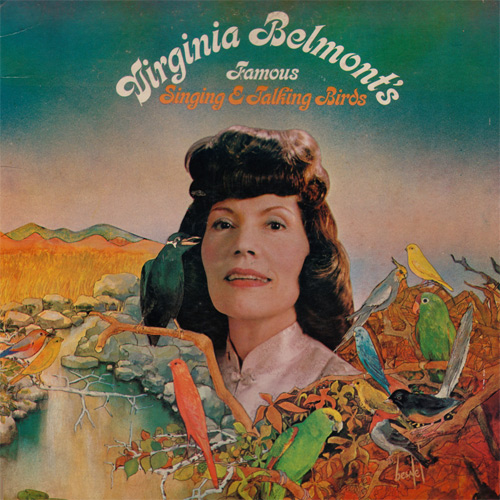 Original music in imitation of birds
All of this is music I perform live on recorder, theremin and keyboard.
Summer's Lease

Sarah Angliss

3:00

You Taught Me How to See the Crows

Sarah Angliss

5:25

A Wren in the Cathedral

Sarah Angliss (feat. Stephen Hiscock and Colin Uttley)

3:59
Summer's Lease is a call and response between a blackbird and recorder player. I imagined this exchange taking on a late summer's evening, just before the storm breaks. I composed and performed this for Moon Wiring Club's summery compilation Down to the Silver Sea.
You Taught Me How to See the Crows – from Ealing Feeder. Crows aren't songbirds – this track is inspired by a daily ritual in our old third-floor flat. Every morning we would count and feed the gathering crows from our window that was level with the London tree canopy. This track is performed live in one take using solo recorder and Max. The Max patch reiterates the live recorder while subtly stretching it in time, creating interesting Renaissance-style false relations and unexpected collisions.
A Wren in the Cathedral – from Ealing Feeder. Here the theremin is controlling blackbird song. To me, this is a piece about entanglement – physical, emotional or other. "A wing tangled in the net, bound by the warp and weft, tighter than a shadow. Feel this: Your action, at at distance".
Not long after the Radio 4 documentary aired, Moon Wiring Club asked me to extemporise on the theme of birdsong and music. He then sampled my playing in his album Today Bread – Tomorrow Secrets. Here, I had imitated a bird's response to music played to a bird – music that itself was in imitation of birdsong. And my performance had been sampled. An an exercise I decided to transcribe one of Moon Wiring Club's tracks, Obsidian Coaxer, onto a score, to complete this curious circle. One day, I might play it to a bird.
Eighteenth-century birdsong transcription: The Bird Fancyer's Delight
Tune for the throstle, the linnet, the woodlark and more. Fashionable in the eighteenth century, The Bird Fancyer's Delight was a compilation of gavottes, minuets and other fashionable melodies written with songbirds in mind (see documentary above).
I performed these renditions of The Bird Fancyer's Delights on recorder as backing material for the Radio 4 documentary. These are unmistakeably eighteenth-century tunes but many of them have grace notes, trills, repeated dotted falling figures and other musical gestures that suggest they were composed with birds in mind. I see them as an eighteenth century fantasy of birdsong. Strictly speaking, they should all be played on a very high recorder or flageolet but I've played them at various registers here (on treble and sopranino).
Twenty-first century birdsong transcription
In 2016 I was connected by Dan Stowell, a machine learning and bioacoustic researcher at QMUL. Dan has created a system for automatically transcribing birdsong. I created a Max patch to play his automatic transcriptions of a dawn chorus through my carillon. We took this to Stave Hill Ecology Park on Dawn Chorus Day. Musically, it's very interesting to compare this to the Bird Fancyer's Delights. Thanks to Karina Townsend for the film.