Loving the Machine – notes
Update August 2013: The material in this talk is now included in two peer-reviewed publications:
Angliss, S: "Mimics, menaces or new musical horizons? Musicians' attitudes towards the first commercial drum machines and samplers".  In Material Culture and Electronic Sound, edited by Frode Weium and Tim Boon (with forward by Brian Eno). Smithsonian Institution Scholarly Press, 2013.
Radcliffe, C and Angliss, S: "Revolution: Challenging the automaton: Repetitive labour and dance in the industrial workspace". In Performance Research: A Journal of the Performing Arts Vol 17, Issue 6, 2012.
Thanks to everyone who came along to TEDx Brighton, January 2011. I had a great time – never knew I could hear so many new ideas in one day.
This is the first time I've put this material together to make one argument – so it was really encouraging to hear so many positive comments.  Taking a tip from Antony Mayfield's inspiring talk on social networks, I'd like to share these links with you all.
These are some of the resources I've been using while I've been investigating the curious relationship between Lancashire clog dance, Kraftwerk and early Detroit techno. I hope you find them interesting: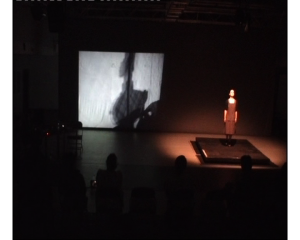 Cotton mills and clog dancing
Dr Caroline Radcliffe: Performer, musician and lecturer in theatre – Caroline is the dancer in the video who introduced me to The Machinery and its origins. Caroline has researched the history of clog dancing in its many forms in the UK and is a skilled Lancashire clog dancer. She's also an expert on the life and work of Dan Leno.
Spinning the Web: A great resource on the history of the Lancashire cotton industry.
Sounds of Quarry Bank mill. Here's an excerpt of the sound collage Caroline and I put together, using my layered field recordings of cotton mill machines in Quarry Bank mill. Of course, you're only hearing half the performance here as this is missing the sound of Caroline's live clog steps.
NB The stereo panning on this file is a little odd as it was prepared for a particular performance space.

Quarry Bank – this living history museum is packed with working cotton mill machinery from the 19th and early 20th centuries.
Early drum machines
The Wurlitzer Sideman in Popular Mechanics Magazine, November 1960
Arguably, the Wurlitzer Sideman was first synthetic drum machine to go on sale. Earlier automatic drummers, such as the Rhythmicon (1931), from Henry Cowell and Léon Theremin, and Raymond Scott's Circle Machine (1959), were one-off experimental units. The Chamberlin Rhythmate had been on sale since 1948 but only a dozen or so were sold. Using drum sounds pre-recorded on tape loops, rather than electronically synthesised beats, the Rhythmate was a precursor of the Mellotron.
Robots and Electronic Brains
This book by Mark Brend includes a very interesting history of drum machines.
Inside a Wurlitzer Sideman:
From Peahix
From RoilNoise
Photos of the inside of a Wurlitzer Sideman on Deviant Synth.
The Musicians' Union and the talkies
"It remains to be seen whether, when the novelty wears off, patrons of cinemas will be satisfied with this dehumanized form of entertainment."
Musicians Union, c1930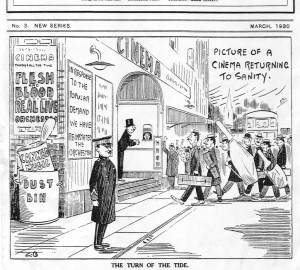 Frank and Lillian Gilbreth
Archives of Frank and Lillian Gilbreth, pioneers of time and motion study. Here's one of their studies from the early 1900s. The worker has flashing lights strapped to her wrists so her movements can be tracked in this long-exposure photograph. The Gilbreths were looking for signs of 'wasted motion'. They wanted to streamline manual tasks to reduce fatigue, increasing efficiency and give workers more 'happiness minutes'.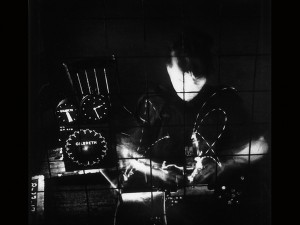 Excerpt from the film 'The One Best Way' (from emmaroses)
Taylorism
The archive of Frederick Winslow Taylor, pioneer of the 'scientific management' of work. At the end of the nineteenth century, Taylor pioneered the application of engineering principles to the management of people and labour. Taylor's views influenced the development of the assembly line.
Job Matching for Women (1930). Source: US Dept of Labor.
Charlie Chaplin in the factory scene from Modern Times (1936).
Detroit: motor city
An interesting video on the development of the car assembly line (source unknown).
Cosmic Car  (Cybotron, 1982)
Here are some fascinating photos by Yves Marchand and Romain Meffre, showing Detroit in decline (on the Guardian website).
Kraftwerk
https://www.youtube.com/watch?v=VXa9tXcMhXQ
We Are The Robots (1977). Complete with a Gilbrethesque timer. Not an inch of wasted motion in this video.
Call Centres and 'dark satanic mills'?

Here's an article in Management Issues, January 2004, reporting on the HSE comment likening the worst call centres to 'dark satanic mills'.
Here's the HSE report in question, in which monotony and lack of autonomy are shown to be causes of stress. Interestingly, I don't see the term 'dark satanic mill'  here so there may be some discrepancy between the formal report and the words used in press releases and interviews with the author. I am now digging around my old hard disks to see if I can find the source of the original quote. At the moment, the best I have is a comment reported on a BBC website. Of course, the source may have been updated since 2004, as I remember this comparison caused quite a stir.
Here's a BBC News report from the time, in which Christine Sprigg, author of the HSE report, is reported to use the term 'dark satanic mills'. Here, you can also see comments from people who were working in UK call centres at the time.
Update 10 March 2011: Dr Christine Sprigg emailed me after the talk and told me some more about provenance of the 'dark satanic mills' statement. As far as she knows, it first appeared in this press release, from the British Psychological Society, early in 2004. Although it's titled 'Call centres are "not satanic mills"', the press release goes on to say:
Ms Sprigg said: "Not all call centres are 'satanic mills'. Some do merit that description, but the best do not. The task facing organisations that use call centres is to match their aspirations for high service for their customers with high quality of working for their staff."
…the inference is that some call centres deserve this epithet. And this was seized on by unions and journalists around the UK as it fitted prevailing concerns about these new work places. In a recent email exchange, Dr Sprigg recalled 'personally I can't remember even saying that! The Call Centre Association (CCA) got a bit upset at the time. It…snowballed massively.'
Just to add to the confusion, here's a Channel 4 news page, dated 2002 but updated in 2005 that also makes the reference.
Dr Sprigg also pointed out this paper: 'An Assembly Line in the Head' (Taylor and Bain, 1999) which talks about Taylorism in the call centre. The 'assembly line' in question is the stack of calls awaiting the call centre operator, no matter how swifty he or she can deal with their current caller. Here, the authors also refer to the stress of 'emotional labour' – the need to keep check of your own emotions in the call centre, 'smile down the phone' and keep within certain boundaries of acceptable conduct and language.  They explain how call centre technology cuts out manual tasks, such as dialling numbers, that slow work down (see my notes on 'wasted motion' above). As one manager pointed out:
Dialling manually you can make only 30 calls and speak to 10 people. The power dialler will get 80 phone calls and you speak to everyone one of them in a four-hour shift. 10 to 80.
Automation like this boosts productivity but demands employees to keep pace with the relentless call centre machine. And the call centre technology can measure the pace of work of every employee, throughout the day.
Crucially, Taylor and Bain point out that call centre employees do sometimes resist this work structure – either individually, for instance by finding ways to manipulate management to get better shifts, or collectively, via unions. In the UK, unions have negotiated everything from more teabreaks to better maternity leave for its (majority) female employees. Of course, this paper was written in 1999, before the era of 'outsourcing', when faster data networks have enabled companies to site their call centres around the world, cherry picking countries according to their wage costs, labour laws and so on. It would be fascinating to know how closely this represents life in the call centre today, in Europe, India and beyond.
Breaking the monotony in the Call Centre:

Source: 'yahoofun'