Music and peculiar science clips on film.
Infrasonic terrors, smoking robots, mind control experiments, time and motion studies, space age fashions and other visions of the future feature in this evening of peculiar, rarely seen science clips.
Rocket lolly is a feast of scientific and technological curiosities on film, from 1900 to present day. This show includes two astounding films from the UK archives. One is a vision of the future (1955) created in 1935. The other is a strangely prescient film from the 1960s, predicting a world where everyone's secrets are stored on a giant, global computer network. Many of the films are mute and accompanied by live music which I perform with percussionist Stephen Hiscock.
As seen at: The Ghille Dhu, Edinburgh (closing act of the International Science Festival, a double-bill with retro futurist podcasters Project Moonbase); The Marlborough Theatre, Brighton; and Tartu Elektriteater, Estonia (for Prima Vista Festival).
Thanks to the Museum of Science and Industry, Manchester, and the Huntley Film Archives for their generosity in making our main features available for the night. And thanks to Alan Fred Pipes for sourcing this beautiful image of rocket airliners.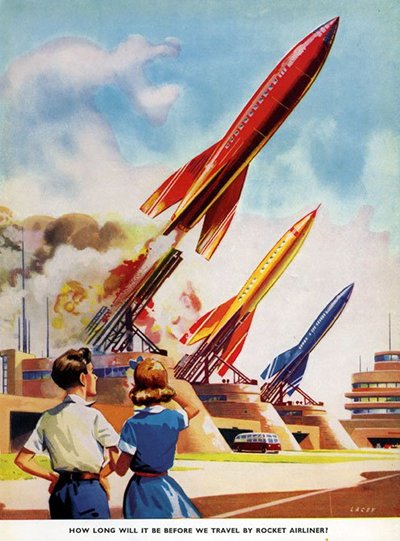 Photo: still from Plenty of Time for Play (archives of Museum of Science and Industry, Manchester).