Sub-basement refuge, Brighton Town Hall (2013)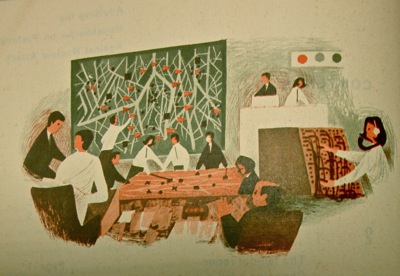 Researched and devised by Sarah Angliss, this show delves into rarely seen archives and personal testimony to tell the story of Britain's secretive nuclear survivalists. It turns swifty from an entertaining sweep through the archives to a stark reminder of the roots of many of the most disturbing trends in modern British politics. Rich in personal revelations, Horlicks and Armageddon also uncovers the grim truth about Britain's own preparedness for nuclear attack in the 1980s. Directed by Emma Kilbey and featuring Colin Uttley, this production was awarded most groundbreaking show of Brighton Festival and Fringe 2013.
In the 1980s, when most people lived in fear of Armageddon, a small band of self-styled nuclear survivalists were preparing for it with relish, just like an extended, underground caravanning holiday. They built private shelters and fitted them out as luxuriously as space, budgets and gamma rays would allow. They swapped tips on best food for the 'three week survival period' and on ways to beat the queues in the supermarket if there was an escalating threat of nuclear war. Their magazine of choice was 'Protect and Survive Monthly', a periodical which advertised private shelters and ran features on topics that would interest the caring nuclear survivalist: e.g. 'Will my Pet Survive?'
This show delves into some rarely seen archives to tell the story of these survivalists. During the show, I contrast the distinctly Thatcherite approach of the private shelter enthusiasts to the work of the Royal Observer Corp, a remarkable band of volunteers who planned to leave their families in the event of an attack and staff monitoring stations, keeping us informed of approaching nuclear radiation.
The show includes startling personal testimony from Britain's nuclear survivalists – and a coda, salvaged from the archives, that is hard to forget.
Update April 2021: Horlicks and Armageddon is currently in development as an ensemble piece for theatre.