The Twilight Zone – Almeida, London
The Twilight Zone
Almeida Theatre, London
Ambassadors Theatre, London
"keep[s] our ears deliciously unnerved"
Paul Taylor, The Independent
Interview about composition and sound design for The Twilight Zone in The Stage (paywall).
Why is this Cigarette Burning?
Here I've layered a piano extemporisation over a sample from Bernard Herrmann's original score. This cue creates a sonic focus for an eerie moment where a cigarette, discarded in an ashtray, spontaneously reignites, sending smoke swirling and rising. We also hear the barely discernable voice of a child trapped in a void in space-time, hinting at another story to come.
Fairground: A Nightmare in Reverse
Here a man trapped in a nightmare  is sucked back through a hideous fairground scene. I've created sound and music that pulls time like liquorice, moving backwards and stopping momentarily at a street in a New York where his story begins. At the end of the cue we hear disturbing, sinking strings as a woman is unnerved by a mysterious visitor at the door. This cue has been created by applying radical time and pitch transformations to fairground recordings and the Twilight Zone's original soundtrack.

Star Dread
A young woman who wakes from suspended animation to discover her lover has spent the last fifty years drifting alone in space and is now a very old man. This underscore creeps in as she realises she'll need to spend the rest of her life alone, surrounded be strangers on a future earth. I created this cue by stretching fast music from the original soundtrack 64 times, creating a sense of yearning and suspended time.
Why is this Cigarette Burning?

B Herrmann feat S Angliss (piano)

0:35

Fairground: A Nightmare in Reverse

Sarah Angliss

1:08

Star Dread

Sarah Angliss (radical manipulation of OST)

2:43
About this production
The Almeida, London,  was home for the first official stage production of The Twilight Zone in 2017. It was adapted by Anne Washburn from the classic 1960s CBS television series and is directed by Richard Jones.
I was composer and sound designer on this production – a job which required me to re-edit the extraordinary, orchestral underscore of the original series and dovetail it with original sounds and music of my own. I created the new material by radically stretching, pitch-shifting, distorting or otherwise processing or augmenting the show's original sound and music. This enabled me to make a striking 21st-century counterpoint to the 1950s and 60s underscore with a strong sonic cohesion with the original.
A highlight of this project was the chance to work with the the archive of Bernard Herrmann – the composer responsible for the soundtracks to Psycho, North by North West and The Day The Earth Stood Still. The production also included music by Marius Constant (composer of the show's unforgettable theme tune), Fred Steiner, Nathan Van Cleave, among others, as well as my original work. Access granted to edit and adapt the music of Herrmann, Constant and others was unprecedented and we were grateful to be given the rights from Sony CBS.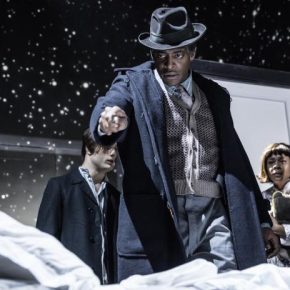 Creating a new underscore for the show was a painstaking exercise. It took months to edit the scores and refine the cut, working closely with Richard the director, as well as the choreographer and actors in the rehearsal room. It was particularly fascinating to find ways to make the original score slip in and out of my contemporary sounds. Sonically I was keen to avoid any form of pastiche – I wanted this show to conjure that underlying sense of jeopardy and dread people felt when they first saw The Twilight Zone on TV.
The original soundtracks to The Twilight Zone were made at a time of technological change, the emergence of electronic music, the beeps of Sputnik, aural paranoia in bugged phones and dials tuned for sonic interceptions of intercontinental ballistic missiles. Herrmann and others formulated their own vision at CBS for the series, building sonic futures rooted in tense orchestral compositions that reflected these Cold War anxieties. Their work stood in contrast to the tape-manipulated sounds of theor contemporaries in the UK who were working in the BBC Radiophonic Workshop. I wanted to create sounds and music that made the most of both these traditions – sonic visions of the future on both sides of the Atlantic.
Show tune
This show also required me to write a 60s-style song and dance number. It pops out of nowhere towards the end of Act 1 and it involves a cat woman, a heady dream and a deadly roller coaster. When the show transferred to The Ambassadors Theatre in 2018, I added a song and dance number for Napoleon, the show's eerie ventriloquist dummy.
Creative team
In a production that's rich in extraordinary sound, I was grateful to be joined by fellow sound designers Christopher Shutt and Zoe Milton in the final weeks of the project. Set design was by Paul Steinberg, choreography by Aletta Collins and lighting design by Mimi Jordan Sherin. Chris and I also worked together when the show transferred to the Ambassadors Theatre, 2019.