Raven (Thought)

Sarah Angliss

4:06

Egg

3:18

Camberwell Beauty

Sarah Angliss

2:55

Wan

Trad. arr. Sarah Angliss

7:38

A Wren in the Cathedral

Sarah Angliss

3:59

Needle

Sarah Angliss

2:34

You Taught me How to See the Crows

Sarah Angliss

5:44

The Bows

Sarah Angliss

5:28

The Messenger (Alexandra Palace mix)

Sarah Angliss

4:03

The Hairy Ape - Rich Parade as Gaudy Marionettes

Sarah Angliss

1:04
"Music possessed of an eerie instability…a whole universe unto itself brimming with fresh propositions and new directions…a shimmering minimalist masterpiece"
Robert Barry, The Wire Magazine
"The most inventive album I've heard in a long while…a testament to Angliss' imagination and sheer musicality".
Simon Reynolds, 4 Columns, New York
"Poetic…drifting but focussed compositions….their beauty is pointed and hard-won."
Ben Beaumont-Thomas, The Guardian
"A sound of broad depth…a necessary bout of fury"
Eden Tizard, The Quietus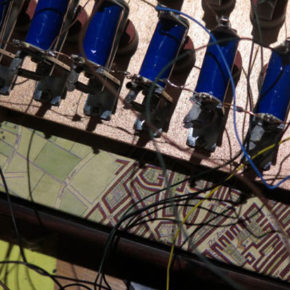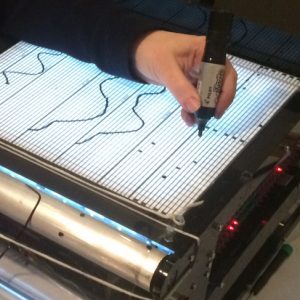 Funded by the Daphne Oram Trust, Anomie Academic have republished Daphne Oram's An Individual Note: of Music, Sound and Electronics – a book that's been out of print since 1973. I've written an introduction to the reprint, giving an overview of Oram's life and her pioneering work in the early days of the BBC Radiophonic Workshop and in her home studio in Tower Folly, Kent.
In 2018 I also composed a live piece for voice and Oramics Machine – Oram's pioneering  'drawn sound' machine. I performed this live with singer Sarah Gabriel using a mini-Oramics machine built by Tom Richards from Oram's original notes and drawings.
Photo of theremin performance by Lucy Cage