Raven (Thought)

Sarah Angliss

4:06

Egg

3:18

Camberwell Beauty

Sarah Angliss

2:55

Wan

Trad. arr. Sarah Angliss

7:38

A Wren in the Cathedral

Sarah Angliss

3:59

Needle

Sarah Angliss

2:34

You Taught me How to See the Crows

Sarah Angliss

5:44

The Bows

Sarah Angliss

5:28

The Messenger (Alexandra Palace mix)

Sarah Angliss

4:03

The Hairy Ape - Rich Parade as Gaudy Marionettes

Sarah Angliss

1:04
"Music possessed of an eerie instability…a whole universe unto itself brimming with fresh propositions and new directions…a shimmering minimalist masterpiece"
Robert Barry, The Wire Magazine
"The most inventive album I've heard in a long while…a testament to Angliss' imagination and sheer musicality".
Simon Reynolds, 4 Columns, New York
"Poetic…drifting but focussed compositions….their beauty is pointed and hard-won."
Ben Beaumont-Thomas, The Guardian
"A sound of broad depth…a necessary bout of fury"
Eden Tizard, The Quietus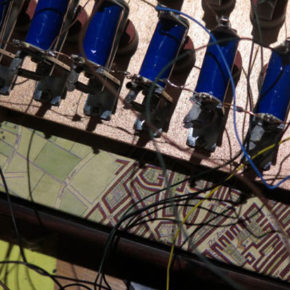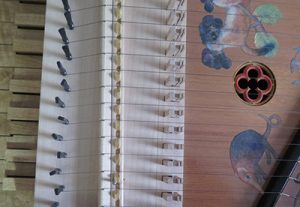 I'm currently completing the score for Giant, an opera blending voices with viola da gamba, clavisimbalum and electronics, Giant is about the betrayal of Charles Byrne, a man whose corpse was stolen, dissected and put on public display against his will. Supported by Snape Music and the Jerwood Charitable Foundation.
Photo of theremin performance by Lucy Cage