The Machinery: 19th century industrial dance music
If you ever thought artists like Kraftwerk, the makers of Detroit Techno or even the early twentieth-century Futurists were the first to embrace the machine aesthetic in their dance and music, this piece might interest you:
Devised in 2007, The Machinery is a collaboration with performer and theatre historian Caroline Radcliffe. Here we present a startling example of industrial dance, one devised by women working in the Lancashire cotton mills two centuries ago. As early as 1804, these women were mimicking the sounds and actions of the mill machines around them as they performed this heel-and-toe clog dance. These workers created noise music and an industrial dance that predated the Futurist Art of Noises by a century.
Update June 2018: We're delighted to have been awarded an Arts Council National Lottery grant to creating an archival-quality video of this dance. This will be created in the University of Birmingham theatre in collaboration with video maker Jon Harrison. We'll present this video as a large-scale tryptic projection in industrial sites around the UK and beyond. The first stop is in Ironbridge, September 2018. In the meantime, the video made of our performance at AlgoMech will be on display in Compton Verney, 2018, for their summer exhibition themed around the automaton.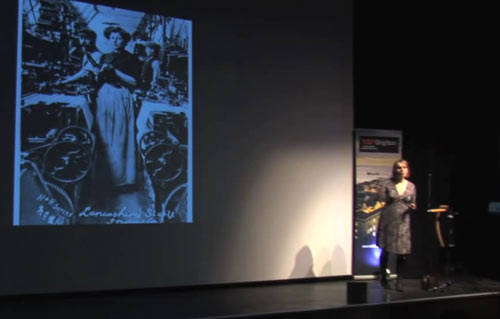 Video – and background notes
See TEDx talk about this piece – and on art that embraces dehumanisation.
Read some background notes on the TEDx talk.
See a video of the dance at AlgoMech, Sheffield Millennium Centre (video by Jon Harrison)

Other collaborations with dancers and choreographers
Sonakinotography – Raven Row, London
A realisation of an algorithmic score by systems artist Channa Horwitz who used paint, pencil and paper to precisely map out mathematically rich instructions for dance, light and music. Dance choreographed by Ellen Davis, Horwitz' daughter.
Dance scenes in theatre
I've composed music that's tightly coupled to choreography in theatre shows. The Hairy Ape, for example, included a number of choreographic set pieces, for instance men shovelling coal and upper-class grotesques parading along Fifth Avenue.  The Twilight Zone included a 1960s broadway-style style song and dance number (sung by a cat woman). Both these shows were choreographed by Aletta Collins.
Photo in header: fragment from Counting in Eight, Moving By Color, Time Structure Composition # III, Sonakinatography I (Channa Horwitz).
Fuller's dance reimagined
Playing theremin for a new interpretation of Loie Fuller's butterfly dance. Film maker Louise Colbourne wove my theremin performance with her dance, highlighting the striking similarities between our gestures.